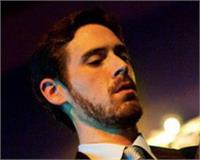 Guitarist Jeff McLaughlin is a composer/performer who loves teaching his students. He started playing guitar at age 13 and fell in love with the instrument immediately. Soon after he began learning the solos of Steve Vai, John Petrucci, and Buckethead. He later attended the University of North Florida for Jazz Studies where he earned a Bachelor of Music degree. While working toward his Master of Music degree at Indiana University's Jacobs School of Music, Jeff served as an Associate Instructor for IU's Jazz Department: directing big bands, coaching combos, and teaching music students enrolled in classes and applied guitar lessons.
He has appeared across the country including performances at the Indianapolis Jazz Festival, the Ravinia Festival in Chicago, and the Bloomington Jazz Festival where he also presented masterclasses in jazz guitar and group performance. In June of 2011 he was selected along with 14 other young musicians from across the country to participate in the Steans Music Institute at Ravinia where he worked with Curtis Fuller, Rufus Reid, David Baker, and Nathan Davis.
His 2011 debut Owl Studios release, Blocks, reached #1 in the Jazz Week Chart-bound rankings and # 11 in the CMJ Jazz airplay rankings. Jeff can be heard around the city playing original music in his own contemporary jazz groups.